Find yourself searching for a few moments of weekend bliss and nature's peace at the end of a hectic week? That elusive prospect is something we'll find more often than not when surrounded by the great outdoors.
While most of us spend our 9 to 5s living in the concrete part of the Singapore jungle, over here at Grouphunt we believe that experiencing the outdoors is an attitude - you can adopt it whenever and wherever we are. If you love what you do, you'll never have to work another day..
Thinking of living the outdoor life here in Singapore? Here's a list of product tips that will make it a whole lot easier, crowd-sourced by the Grouphunt Outdoors Community. Just like how certain tools can maketh a man, choosing the products you own charts an influence over your general thinking and lifestyle.
---
Developed right here in Singapore, Airmocks are high quality, free-standing hammocks that are also portable, safe and easy to setup. With this genius invention you can take a snooze anywhere - in parks, outdoor music festivals, by the beach or even right in the comfort of your home.
Great part of being in nature is how it relaxes and inspires you. With the Airmock Zen, you have yourself a fantastic way to chill out relax and be inspired anywhere.
Save up to 20% when you join the Grouphunt for the Airmocks. Join up by this weekend, and receive it in time for Father's Day!
---
Ideal for hiking, parks, picnics, beaches, festivals, concerts, and more - the Matador Blanket is water repellent, puncture resistant and most importantly extremely compact. Opening up to 63in x 44in, it's large enough for 2 to relax or more to sit down.
Keep this in your everyday carry and challenge yourself to head out for a quick session to nature reserves or city parks before/after work, or as and when 'nature calls'!
Join the rest of the community in requesting for the Matador Pocket Blanket on Grouphunt, and be the first to know when we bring it in for the next run!
---
One of the best moments outdoors is when everyone gets together to enjoy a deserving meal after a hike, or around a campfire. The Prepd Pack is a high tech, revolutionary take on the human lunchbox that will fit right in your outdoors packing inventory!
With a beautifully bamboo casing, premium modular systems that don't weigh you down, smart magnetic cutlery so you don't lose anything when out in the field - the Prepd pack will make the entire process easy and more enjoyable!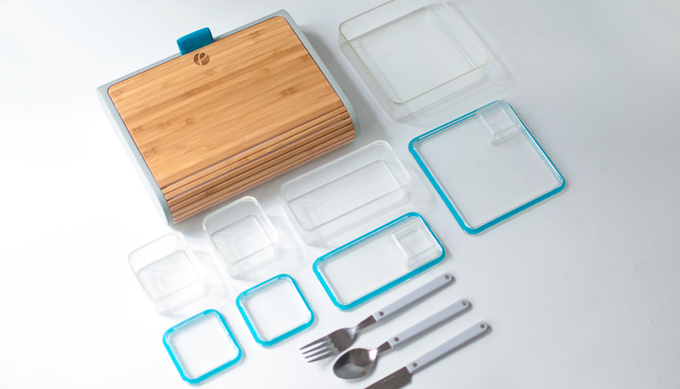 We've been gathering a group to split shipping and unlock the group pledge for 15% off the Prepd Pack's crowdfunding campaign! Final weekend to join the hunt, don't miss out!
Nothing beats the spirit of adventure-loving preparedness like a good harvest-sack (whoa, who even uses that phrase these days!). Today's modern bags are cleverly designed to take you from the office to the workout - all in a day's journey.
We love the AER Fit Pack, with compartments designed for your gadgets and workout gear alike. The shoe compartment makes for an awesome weekend getaway bag as well.
Another contender is the Fjallraven High Coast. From the same company that brought you the mini Kankens that now line the streets, the High Coast is the Kanken's lesser known, older sibling. Rare and hard to find in Singapore, it's highly desired by an inner circle of adventure-addicts.
Featuring an extremely simple hook-clip entry to the main compartment, it's perfect for dumping in your gear and heading out to that light trek, daily commute, or city adventure - this bag's got your back!
And did we mention it's construction? Made from G-1000 Lite, it's one of the strongest fabrics designed specially for the outdoors. Find out more.
---
Did you know that 75% of city dwellers may suffer from chronic dehydration? Staying hydrated gives you the energy to extend your day, period. Designed by pro-snowboarders with the rugged outdoor person in mind, Mizu means water in Japanese. Mizu bottles are rugged, BPA free bottles that are of an ideal size and can take a beating on your own personal adventures!
Mizu's core mission is to provide active people with smart hydration and drink ware options so that you can go have fun and feel great about it - enjoy nature, and the #mizulife!
Have an adventuring buddy? Don't miss the chance to grab the Mizu Bottles at 50% off with our 2-for-1 Grouphunt that ends this weekend!
---
All the world's a stage, and the Flying Tent is the world's first all-in-one floating tent, bivy tent, hammock and rain poncho you can setup anywhere! Weighing in at only a mere 1.2kg - it protects you from the elements when you are living large in the great outdoors.
With 4 ways you can setup the tent, you can be sure you will be ready what ever terrain you end up in out there. Great for overnight camps at the beach, islands, or even more fantastic if you manage to set it up right in the comfort of your own balcony ;)
Join the rest of the community in requesting for the Flying Tent on Grouphunt, and be the first to know when we bring it in at a neat discount!
---
This is a community generated post, made possible by amazing users like yourself. At Grouphunt, we've adopted a crowdsourcing approach to product discovery - letting our users unearth many of the cool and interesting products for the community. If you know of a product that should be in this post, post a hunt, leave a comment and we'll be glad to review it for addition to this list.
---
About GROUPHUNT
Grouphunt is Singapore's No. 1 crowdsourced product discovery and group buying site for Enthusiasts. Users suggest products they care about, votes and discusses collectively as a community on which products they want to buy together and save on.
Join our community today to enjoy group discounts for products that YOU care about.