This year's annual smog and soot fest has certainly had a bad effect on sunny Singapore. From Godzilla/Ultraman sightings to reducing the number of nice #beautifulsunset shots we get in Instagram - this gigantic BBQ outing has gotten many a Singaporean clamouring for fresh air overseas.
Ok we get it.
The Haze sucks.
But surely there are positives too?
Beyond how improved tour bookings sales on outbound travel's has an effect on the economy, the Haze has more importantly given us a leg up on our small talk skills, with phrases like "The Haze is damn jialat!" and "Wah lau eh, how to breath like that" fast becoming sure fire ways to establish common ground in any conversation.
That has certainly helped us dispel one or two of those awkward and uncomfortable elevator conversations over the past few days :)
The Haze seems to be pretty comfortable by itself, lodged consistently within the unhealthy to very unhealthy zone. With the PSI in Singapore hovering over the 300 mark and reports from NEA stating that it might hang around for a significant while longer - maybe it's a good time to stop being "garang".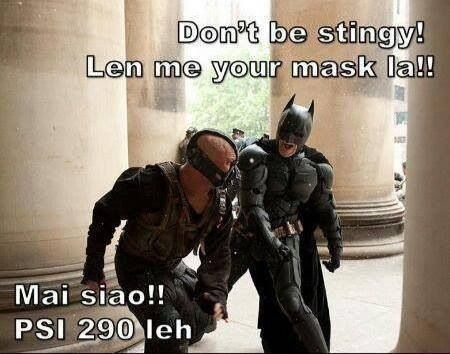 If you can't get Bane's mask - why not get the next best thing by investing some spare cash in an Air Purifier for the Batcave?
Here's our quick guide on buying one in Singapore, and our top 5 picks on which ones to get.
Air Purifiers (if you can afford to splash the cash beyond respiratory masks) are without a doubt a great choice to remove pollutants and allergens from the air. However, not all models are suitable in combating the particles in Haze (stuff like particulate matter and sulphur dioxide)
Picking HEPA (High Efficiency Particulate Air) models would make sense as their filters help remove up to 99.7% of particles that are 0.3 microns or larger - meaning they manage Haze effects better than other filters in the Market such as Ozone, Carbon and UV. These filters also keep your air fresh and you relaxed.
Things to consider
How much coverage does the Purifier offer? Check if the model can cover the room space you're intending to use it for. You wouldn't want school children doing a man's job, right?

Air changes/hour: Measures no. of times air is passed through the purifier. According to this Guide from Best Denki, Asthma sufferers should look at getting one that does 4-8 reps/hr

How noisy is it? Models with fans are generally more assuming as they have to work to suck air in. Just do a conscious check before purchasing to make sure you won't break the fella when you get irritated at home.
GROUPHUNT's Top 5 Picks for Air Purifiers to Group Buy Together
There's no particular ranking here yet okay. We're currently gathering requests from the community to see which model we can group buy and save on together. Once we hit 25 requests, we'll go out and get the deal for you.
You can check out our community voted rankings here: Search #dunjiohaze
No.1 Philips Air Combi (2-in-1)

img credits: thehoneycombers.com
Nicest looking of the bunch, the Philips Air Combi (2-in-1) offers dual functionality of an Air Purifier and an Air Humidifier. This cute little bugger combines the unique VitaShield IPS and NanoCloud Technology to help combat allergens and dry air of air conditioning at home - keeping your nose clear and your skin supple.
Retails from S$279 onwards - Request a group purchase here
No.2 Honeywell True HEPA Air Purifier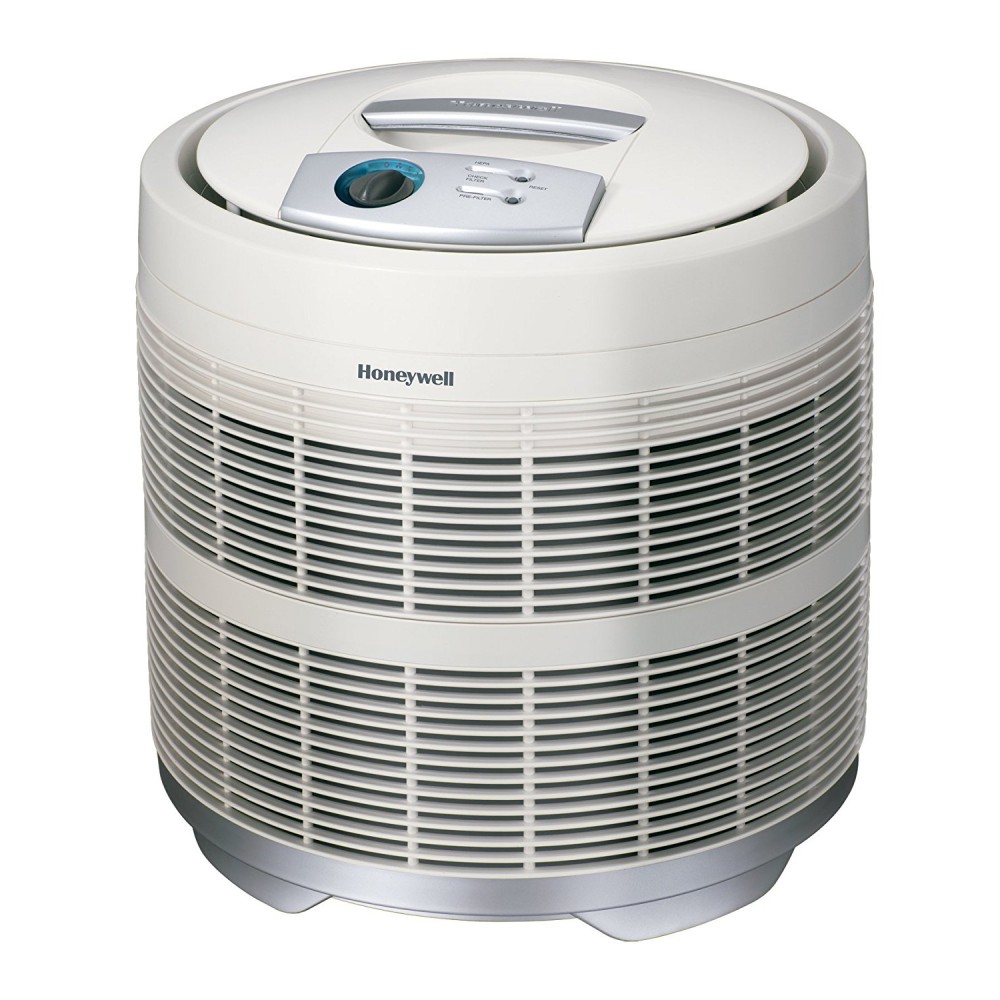 Apparently the #1 recommended brand by allergists, capturing up to 99.97% of microscopic allergens, 0.3 microns and larger. According to some reviewers online the True HEPA Filter is medical-grade and is used by some hospitals for their Intensive Care Units (hmmm not sure how I feel about that, but at least it's legit!)
Retails online from USD88 to 179 onwards - Request a group purchase here
No.3 Hitachi Air Purifier EP-A9000
Hitachi's range of purifiers are equipped with HEPA filters (PM2.5 sensors) to keep the air allergen free, comes with a humidifying option plus an Eco-mode that claims to save you 23% more energy in the long run.
Made in Japan, this large A9000 model offers the largest indoor coverage amongst all models in the range.
Request a group purchase here
No.4 Novita PuriClean Complete Air Purifier
A proud home-grown brand, Novita prides upon creating innovative and meaningful products that enrich and enhance lifestyle. Their PuriClean Complete Air Purifier provides a 3-in-1 function that Purifies, Humidifies and Ionises to give you a complete breathing experience.
True HEPA Sensors. Retails from S$299 onwards. Request a group purchase here
No.5 Xiaomi Air Purifier

Launched in Jan 2015 as part of Xiaomi's Smart Home lineup, this smart little workhorse is affordable and can be controlled easily via the Smart Home app. It also does a decent job in reducing Particle Matter 2.5, as seen in this review. Known downsides is that you might need to purchase a couple of units to fully clean your entire home, but I think if your use case is solely for the bedroom it is good enough.

While the Xiaomi Air Purifier isn't available for purchase in Singapore currently, but we'll bring it in if we get more than 25 requests here.
Do share and get more friends onboard to vote! The faster we hit 25, the faster we can get a group deal of between 30-40% going!
---
About GROUPHUNT
Grouphunt is Singapore's No. 1 crowdsourced product discovery and group buying site. Users suggest products they care about, votes and discusses collectively as a community on which products they want to buy together and save on.
Join our community today to enjoy group discounts for products that YOU care about.