A new kind of traveller has emerged. Technology has completely changed the way we discover foreign cities, allowing us to experience local cultures from fresh perspectives. Today's globetrotter is equipped with a combination of smartphones and wifi-eggs, and city-hops through home sharing platforms like AirBnb and Homeaway.
Naturally, a moment is not complete with a support following. Driven with an insatiable need for unique experiences, the modern explorer requires an updated form of inventory. A spew of cool travel related products have emerged to fill this gap, and 2016 has to be one of the best 'years for gears' yet.
Together with our community at Grouphunt, we've put together a guide to 2016's Travel Essentials And Must Haves. After deliberating what we deemed to be 'Essential' to a new-age nomad, we tapped on the knowledge of our community to unearth the top requested items within their respective categories - in short, the best of the best. Enjoy.
---
The Travel Bagpack
Every trip starts out with a perfect bag. A common tip amongst frequent travelers is that they don't check in any luggage at all. This lets you skip the hassles of queuing in line and waiting your turn, giving you more time to do stretch your legs or browse the duty free sections. The best part is that because you're in control - you minimize the risk of lost baggage. High capacity travel bagpacks sized small enough to just beat the onboard limit are a rising trend. Here are our picks from the pack:
For the gadgeteer at heart! The Access Pack features a revolutionary design that allows travelers to effortlessly spring open compartments for easy access to all their gadgets.
We love the idea behind Riut Bag! It's a cleverly designed spacious backpack that zips opens from the back, keeping your stuff safe from potential thieves. Perfect if you're headed to a bustling bazaar, or taking public trains in a crowded city. To us, that peace of mind is priceless!
The poster child of carryon bags designed to bypass the onboard limits of all major airlines, CabinZero bags are ultra-light, high capacity bagpacks that come in multiple colors and designs to suit your individual style and personality. The empty bag weights just 800 grams!
---
The Travel Pillow
Plane flights continue to be one of the most draining parts of the travel journey, so why not fix it and get your much deserved rest? A comfortable flight goes a long way considering how a little relaxation can help you hit the ground running. Travel pillows are making a comeback after decades of ineffectiveness. Here are the community's picks to completely change your mind:
There is only one way to describe the Evolution Pillow™ — it's the travel pillow that works! It only takes one time using it to understand why people are calling this the best travel pillow in the world.
This unconventional travel "pillow" seems to check all the boxes for a great neck support. The Trtl supports your neck so you can sleep in a upright position without nodding off, and keeps you warm in those notoriously cold cabins.
Woollip is an innovative frontal travel pillow that will allow you to find your ideal sleeping position. Woollip takes advantage of the only extra space you're given on a plane or bus — right in front of you. The design was inspired by the face support from professional massage chairs.
---
The Sights - Cameras
It's 2016, and it's likely you already own a DSLRs or a fancy smartphone lens-kit that can capture those unique moments. So we've taken a slightly different approach to this category by suggesting a series of supporting products.
For protecting your precious DSLRs and lenses:
An adaptive camera protection made for the active photographer! Down padded technical shell and integrated rain fly - this protective cover is easy to remove and can keep your camera safe from the elements.
The same thing, but specifically for camera lenses!
For the smartphone photography geek:
The secret to stunning shots from the mobile on the go is in it's namesake - mobile. The Pocket Tripod fits this bill perfectly, as it's a card-size tripod for your phone that can adjust to any angle!
For those who want to live the moment while effortlessly capturing it:
Narrative is a wearable camera that captures moments of your life, without you even noticing that it was there. It's app then cleverly sorts out the content and highlights the best, authentic moments. What is a story, if not for a series of small moments?
"When coming home from a trip I often find myself with pictures I could just as well have googled me to. But I feel I miss the nice small moments in ordinary life. I'd rather have one picture from that nice alley we passed in Paris, than five pictures of the Eiffel Tower." - Ulrika, 25
---
The Sounds - Earphones / Headphones
Beyond capturing the sights, aural enjoyment makes for a more holistic sensory experience. Beyond keeping the chatty traveler on your side at check, a nice pair of wireless earphones can also amp your style without bogging you down! Here are some of best designed ones we've seen:
Beyond its sleek and polished aluminium exterior, the Earin also packs a punch when it comes to audio quality - setting a new standard for wireless earphones everywhere.
If you are the type who likes tot stay on top of their fitness regimes while traveling, take a gander at the Jaybird X2s - they are micro-sized, sweat-proof sport Bluetooth buds that delivers superior audio performance that rivals some of the best in wired headphones. Best of all? It comes with an 8 hour battery life - perfect for the sporty traveler!
![](https://s3.amazonaws.com/grouphunt-red/poll-thumbnails/X24.png) ![](https://s3.amazonaws.com/grouphunt-red/poll-thumbnails/X21.png) ![](https://s3.amazonaws.com/grouphunt-red/poll-thumbnails/X23.png)
If you prefer headphones to earphones, check out the impressive lineup from Urbanears. The first Bluetooth headphone with a built in microphone, a swipe interface on the ear cup that is ready for up to 14-hours solid playback!
---
The Wallet
Many frequent travelers often keep a separate wallet specifically for their travels. A good travel wallet needs to be lightweight and holds travel essentials without bogging you down. Here are some of the best ones we've seen from the community, designed specifically for your globetrotting adventures:
The Travel Wallet enables you to keep all of your important documents in one place while fitting snugly in your pocket. With two note sections, a tailored passport pouch, card slots and supplied with a handy and carefully chosen travel pen, the only thing you need to worry about is making sure you get a window seat on the plane.
If you're looking for a slim, minimalist wallet to just hold the essentials for your trip, consider our homegrown brand Kitsetsu's Aki Bifold Wallet which holds more than it seems, with quick release tabs built in for easy access of your cards and cash - great for travel!
The WOLYT™ Sleeve Sports is the best minimalist wallet that flawlessly combines great functionality with trending style! If you're the sporty kind of person, their sports edition made of refreshing ballistic nylon colors will surely help you make a statement during your travels!
---
The Water Bottle
It's often inconvenient having to make detours in a new city, so many often miss out on the importance of staying hydrated. Having water at hand means you keep your energy levels high, feel good, and last longer!
Designed by pro-snowboarders with the rugged outdoor person in mind, Mizu means Water in Japanese. Mizu bottles are rugged, BPA free bottles that are of an ideal size and can take a beating on your own personal adventures!
We're having a 2-for-1 promotion for the Mizu Bottles happening on Grouphunt now! Find a friend, get a bottle and save 50% each! Crazy deal that ends in 1 week's time.
If you frequently travel for business, the KOR ONE water bottle is one that will fit your professional style. With its iconic shape, down to its thoughtful and surprising features - thousands have called the ONE the best reusable bottle ever. Also, it doesn't hurt that its also Tony Stark (Iron Man)'s bottle of choice ;)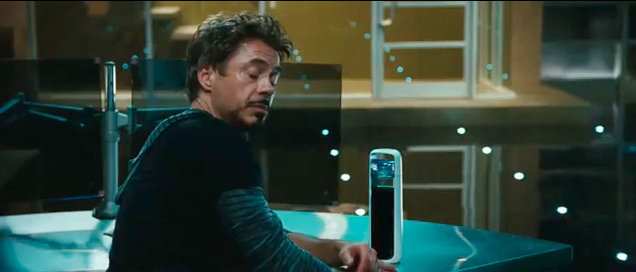 Perfect for the ladies. Look good with this fashion accessory of a water bottle at the airport! Stylishly design in multiple finishes and a myriad of head-turning colors, S'well bottles are one of the most requested on Grouphunt - for a reason. They keep your hot drinks hot for 12 hours and cold drinks cold for 24 hours!
---
The Portable Powerbank
Extra power for your smartphones and the wifi-egg means you go further and extend your day when exploring the new city or destination. Given our reliance on google maps, online guides and restaurant reviews, powerbanks are an absolute must have that's risen right to the top of the essentials list! No battery = no life!
The most compact battery case mophie has ever created. Groundbreaking in form, the distinctly thin and lightweight design of the juice pack reserve provides advanced power, reliability and protection to your iPhone 6s / 6 in an everyday case you'll barely notice. The H20 version is also water and dust proof - perfect for snapping pictures in the pool or on the beach!
Having the portable charger sometimes isn't enough. The cable needs to be compact and easy to carry around too! The BOLD Knot offers 3 hours extra battery, with 2x times faster charging usb cable available for iPhone and Android! Great for those on the go!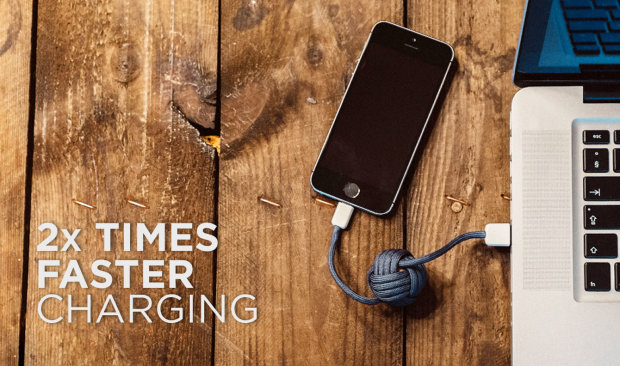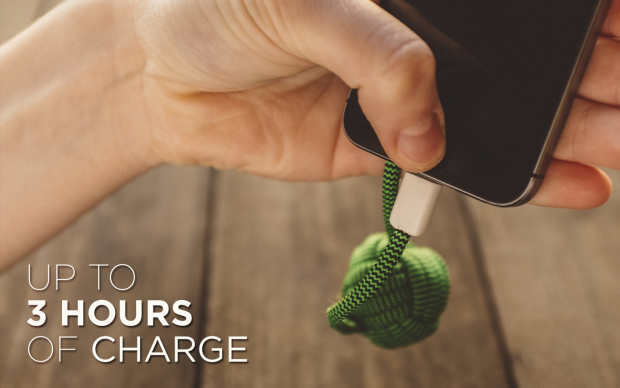 ---
Bonus Products
Here are some really awesome products that we couldn't quite fit into a category - but will definitely come in handy on your travels! Here's why:
By the time you realise you need a portable dry bag always by your side, its probably too late. The Matador Droplet is a keychain sized drybag that you can use in times of need, or just during beach holidays!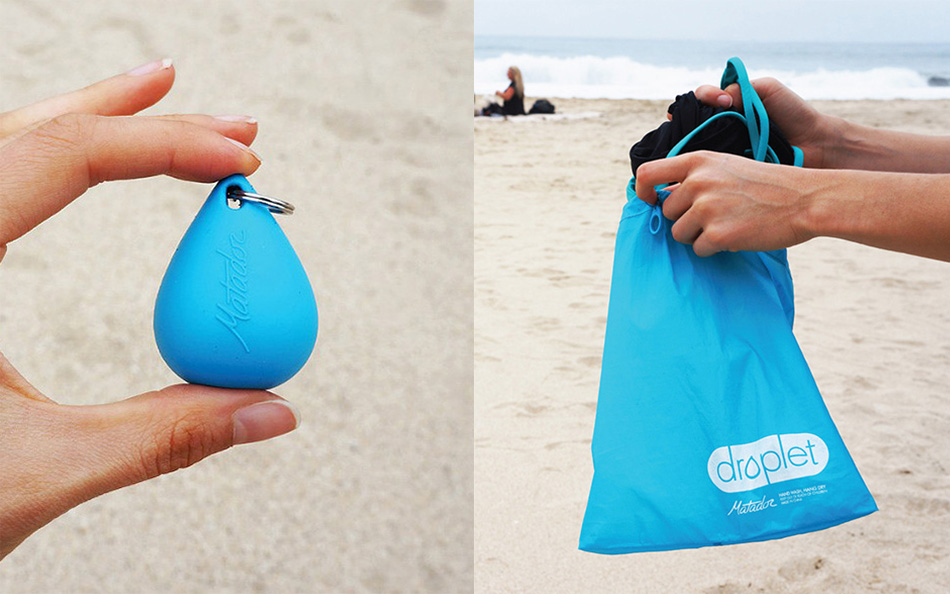 The type who loves the great outdoors and doesn't mind breaking the schedule on the itinerary to just relax on a spot out in nature when you feel like it? The Matador Blanket will keep you comfy no matter where you'd like to settle. Uses it while visiting remote beaches, or city parks!
This light and ready to carry inflatable sofa fits easily into your back pack for great convenience. Easy to setup, filled up within seconds. Most of all, its comfortable :) Great if you are traveling specifically for a festival or outdoor party!
Remember the last time you forgot to pack an umbrella? Don't risk ruining an entire trip by being unprepared. The Tesla of umbrellas, the Senz° is an ingeniously designed pair that was built to withstand all kinds of weather, including storm winds up to 100km/h! That's reliability you can use on your travels, for sure!
Traveling with kids? Check out these inflatable pillows fit into the airplane seat's leg space to allow your little ones to lie down comfortably and sleep normally. Perfect for a long haul flight!
---
This is a community generated post, made possible by amazing users like yourself. At Grouphunt, we've adopted a crowdsourcing approach to product discovery - letting our users unearth many of the cool and interesting products for the community. If you know of a product that should be in this post, post a hunt, leave a comment and we'll be glad to review it for addition to this list (there's still another half of 2016 to go)! =D
---
About GROUPHUNT
Grouphunt is Singapore's No. 1 crowdsourced product discovery and group buying site for Enthusiasts. Users suggest products they care about, votes and discusses collectively as a community on which products they want to buy together and save on.
Join our community today to enjoy group discounts for products that YOU care about.