Christmas is just around the corner and you might be wondering , what would be the perfect ink to get yourself for this very opportune time this year? Here are 10 inks you may want to consider into your To-Buy list!
DISCLAIMER: The inks listed below are in no comparative order!
1. Iroshizuku Chiku Rin
Personally , I do not use green inks that often , but this ink is just the perfect shade of green that appeals to me - cheery and bright, reminding me of the flashing LED lights hung upon the christmas tree, ahh... Using this ink in a broader nib size would allow the ink's shading qualities to be more prominent ; whereas in a finer pen (ie. Fine), the bright yellow-green colour can be easily acheived. This ink , as with the other inks in the Iroshizuku line, dries fast and have fantastic shading qualities as well.

---
2. Iroshizuku Shin Ryoku
This is another green ink in the Iroshizuku line and of course, it shades well and has good drying times, as expected of these inks in this line. This ink reminds me fondly of wreaths you hang during Christmas! Wouldn't you say so yourself?

---
3. Akkerman #28 Hofkwartier Groen
This is one of those fantastic green inks that just screams christmas with its green goodness! Writing christmas cards with this ink? No problem.
---
4. Rohrer & Kligner Alt-Bordeaux
This is a beautiful wine-coloured ink, which would fall in nicely with the winter season.

---
5. Diamine Tyrian Purple
Recently released by Diamine in 2014, Tyrian Purple is a nice dusky purple with exceptional shading properties that has been favoured by many. Take a look at the swabs and you'll know why it's a staple in my own ink rotation, especially during this December. I think that it reminds me of plum pudding, to be honest!

---
6. Sailor Jentle Four Seasons Oku-Yama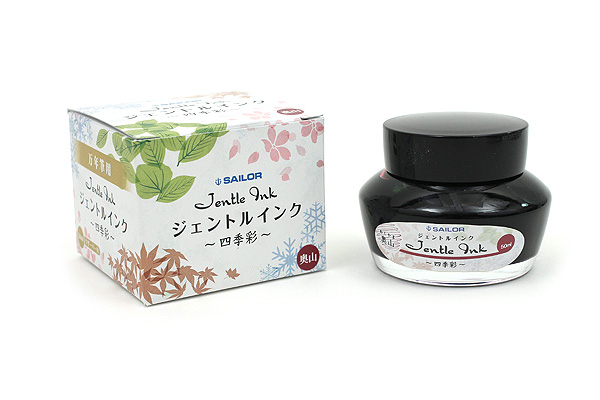 A replacement for the ever-loved Grenade of the discontinued Jentle ink line , Oku-Yama does not fare that far off from Grenade , being a beautiful pomegranate colour. Along with that beautiful shade of maroon , it also has great sheen qualities and moderate dry times.


7. Akkerman #18 Garuda Rood
Akkerman is known for its unique bottle design , shaped like an hourglass. The ink contained within is no exception, with Garuda Rood in this instance. It is a deep red which would work well for festive cards and perhaps, watercolour drawings.
---
8. Diamine Shimmertastic Shimmering Seas
This dark midnight blue ink is infused with sparkles which invokes memories of a silent night , sitting by the bay , watching the stars in the night sky. Whether you're using it to write your christmas cards or just a short thank you note , it'll add that extra wow factor to your words.
---
9. Iroshizuku Ku Jaku
A beautiful teal colour, Ku-Jaku would be a great addition to your ink collection. As expected of Iroshizuku inks, they are generally well behaved. This colour would pair well with red inks, making it a good companion in both daily writing and card writing, ho ho ho !

---
10. Sailor Kiwa-Guro Nano Black Ink
This ink is waterproof , which is not commonly seen in most fountain pen inks! Its waterproof quality is due to the nano-pigments found in the ink itself , which makes it perfect for drawing and also day-to-day writing! It is also left handers-safe as it dries quickly. A must-have in your ink collection.
---
Quick Recap of Inks:
Iroshizuku Chiku Rin
Iroshizuku Shin Ryoku
Akkerman #28 Hofkwartier Groen
Rohrer & Kligner Alt-Bordeaux
Diamine Tyrian Purple
Sailor Jentle Oku-Yama
Akkerman #18 Garuda Rood
Diamine Shimmering Seas
Iroshizuku Ku Jaku
Sailor Pigmented Kiwa Guro
Of course, this list is non-exhaustive and in order to list all inks perfect for this time of year, it'll probably take me a really long time. Which of these inks are your favourite? Comment down below!
P.S : If you're living in Singapore and would like to get ahold of some of these inks, here are some hunts you can vote on/purchase from!
P.W. Akkerman MO
(Active hunt!)
Diamine MO
(Interest Check)
Diamine Shimmering MO
(Interest Check)
Iroshizuku MO (Interest Check)
---
About GROUPHUNT
Grouphunt is Singapore's No. 1 crowdsourced product discovery and group buying site for Enthusiasts. Users suggest products they care about, votes and discusses collectively as a community on which products they want to buy together and save on.
Join our community today to enjoy group discounts for products that YOU care about.